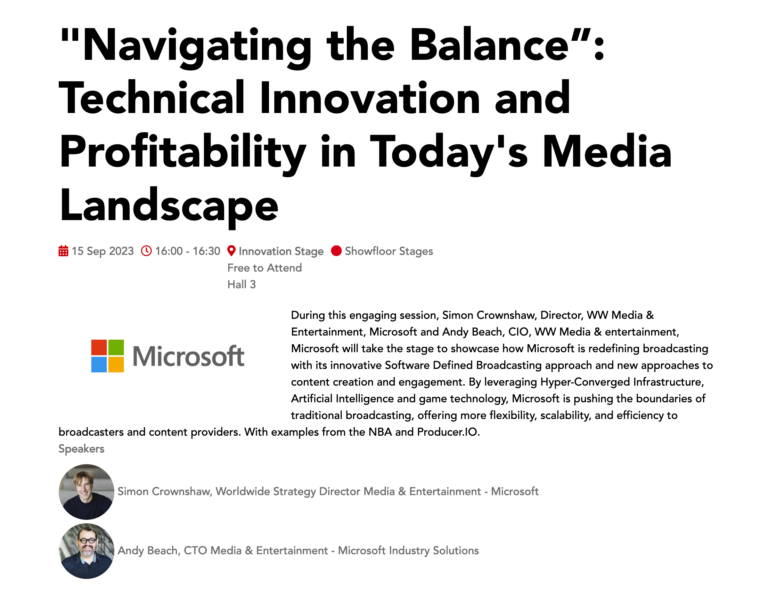 FOR IMMEDIATE RELEASE
"Navigating the Balance": Technical Innovation and Profitability in Today's Media Landscape
AMSTERDAM, 15 September 2023 – Discover how technology is transforming the media world at IBC in Amsterdam. Join us for a special presentation on September 15, 2023, from 16:00 to 16:30 at Hall 3 on the Innovation Stage. Furthermore, you can attend for free.
Microsoft's Innovation
Simon Crownshaw, Director, WW Media & Entertainment, and Andy Beach, CIO, WW Media & Entertainment, will lead the discussion for Microsoft. Specifically, they will showcase Microsoft's latest advances, focusing on their Software Defined Broadcasting approach.
New Approaches to Content Creation
In addition, Microsoft will highlight its strategies for content creation and engagement. This approach breaks new ground and provides unprecedented flexibility, scalability, and efficiency. As a result, broadcasters and content providers now reap these benefits.
Collaboration with PRODUCER
Xaver Walser and Pablo Joessel from PRODUCER will also take the stage. Together with Microsoft, they will share examples of their collaboration. This partnership pushes beyond traditional broadcasting boundaries, offering more flexibility and efficiency.
An Exciting Look into the Future
This session promises to be eye-opening. It provides an exciting look into the future of media. Moreover, it uncovers how innovative ideas are reshaping the industry and enabling content providers to operate in new ways.
Don't Miss Out!
If you're involved in broadcasting, media production, or content creation, don't miss this essential event. Join us!
Location: Innovation Stage • Showfloor Stages, Hall 3 at IBC Amsterdam
Date & Time: 15 Sep 2023, 16:00 – 16:30
Admission: Free to Attend
Links:
https://show.ibc.org/
https://show.ibc.org/2023-content-agenda
https://www.microsoft.com/en-us/industry/media-entertainment


Try PRODUCER: 
https://the-producer.io/plans/
—
For further details or press inquiries, please reach out to
Patrick Lambertz, patrick@the-producer.io